Conference Table Base Options
If you've been looking through catalogs or custom design options for conference tables, you already know about the variety of styles you have to choose from. The material, colors, shape and other aspects of a table all influence the overall functionality and appearance. While tabletops tend to be the star of the show, a conference table base is also a significant aspect of the design to consider. Types of table bases include trestles, pedestals, panels and legs.
Trestle-Base Conference Table
Trestle bases supported the earliest tables in the West, making these types of table bases a classic choice. A trestle table base consists of vertical leg-like supports at each end with a beam or panel running horizontally to connect the two ends. Longer tables may include additional vertical supports in the middle of the table. Trestle bases are generally ideal for any tabletop that is longer than it is wide. That excludes round and square tables, especially smaller ones.
Trestle bases come in a myriad of styles to suit any table. One you may have seen before is the farmhouse-style trestle, with X-shaped crossed legs at each end. Other styles may be simplistic, with clean, straight lines, while others can be more ornate. The material can also influence the overall design. Trestle base materials can be either wood or metal.
In addition to choosing a style you like, you can consider the functionality of your trestle base. For instance, a base with a low runner can provide a footrest. Keep in mind that some trestle bases will limit the amount of legroom at each end of the table, but you can always request more overhang of the tabletop to ensure plenty of space for people at the table ends if that is a concern.
Pedestal-Base Conference Table
A pedestal table base consists of a thick vertical piece with either feet or a sloping base that extends around the bottom to anchor the table securely. Typically, pedestal bases are best for circular and square tables or small tables of other shapes, since their position in the middle can support the whole table. However, it's possible to set some longer-shaped tabletops atop two pedestal bases, possibly joined by a runner.
Pedestals come in a variety of styles. On the more formal end, you'll find hand-turned wooden pedestals. These wooden conference table bases are reminiscent of ornately designed candlesticks. They're a perfect choice for a more traditional setting. On the more simplistic end of the spectrum, you'll find straight cylindrical or rectangular pedestal bases, which can come in wood or metal. Some pedestal tables offer a café aesthetic that can make your conference room feel more relaxed.
Pedestal bases allow for the same amount of ample legroom around the whole table. In the case of multiple pedestals holding up a longer tabletop, you should still have plenty of legroom at the ends, as long as the pedestals sit sufficiently in with enough table overhang.
Panel-Base Conference Table
A solid panel running perpendicular to the length of the table supports panel-base conference tables at each end. Often, a runner joins the panels for additional support. Positions for this runner piece include just under the tabletop, in the middle or closer to the floor.
Panel-base conference tables can still come in different styles, all of which are relatively clean, simple and tend to be wooden. A more ornate version might include grooves in the panels. For a sleeker look, choose smooth panels in a solid color. Because of their simplistic design, panel edges are an excellent choice for a modern office space that seeks to keep their decor fresh rather than traditional.
In most cases, set-in panels allow the tabletop to overhang so people can sit at the ends and have some legroom. However, attaching panels at the very edges of the table creates a waterfall-edge look. Waterfall-edge tables can be a unique design choice when you don't plan to seat people at the head or foot of the table. This style can also be perfect for bar-style seating in a breakroom.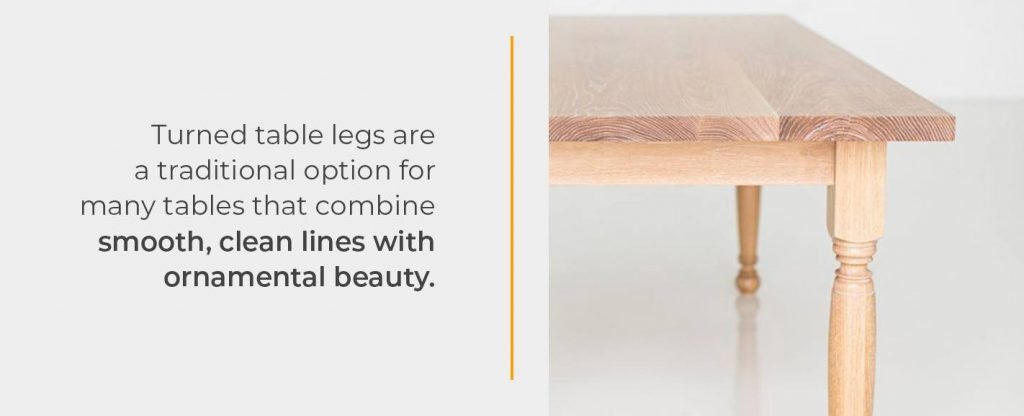 Traditional Conference Table Legs
Table legs are one of the most traditional and versatile choices for conference table bases. Four legs are enough to support many conference tables, with each leg positioned at the corners, or in the case of round tables, evenly spaced in a square formation. Longer conference tables may use six or more legs to support the table in the middle or may include runners for support.
Conference room table legs come in many different styles, from ornate styles such as scroll, fluted and twisted designs to simplistic designs like mission and hairpin legs. Turned table legs are a traditional option for many tables that combine smooth, clean lines with ornamental beauty. Turned legs like this work especially well for a warm, country-style table. Most table legs are wooden, but some industrial-style table legs are metal.
Because conference room table legs come in so many different design styles, legs are a fitting choice for any conference table base. Legs are also the office table base choice that will typically offer the most space underneath for legroom. Whether you want a table that exudes opulence or one that is ultramodern, table legs are an attractive and functional choice.
Contact Us to Request Pricing
When you want a conference table base that meets your company's needs and perfectly captures your style, Greg Pilotti Furniture Makers is here to bring your vision to life. We use quality materials and put our expertise to work to design and build beautiful conference room tables that make a statement.
If you have questions about options for table bases, reach out to us. We can create wood and metal conference table bases in a variety of styles. We'll help you select the right base for your table, along with other design elements, so you get a conference table you're proud to show off to employees, business partners and clients. If you know what type of table you're interested in, contact us for information on pricing.