Creating an Accessible Office Space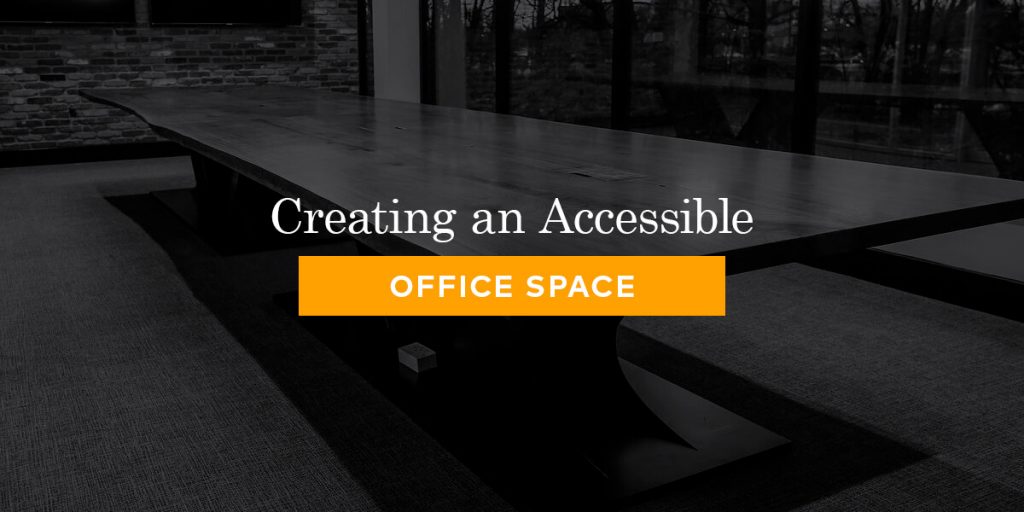 Creating an attractive, functional office space involves a lot of planning, shopping for furniture, and configuring the layout. As you build a comfortable workplace where your employees are happy to put in their hours, you should also make sure your office is accessible. You want to accommodate everyone's needs so your employees can be their most productive.
Accessibility involves many different features of a building. Keep reading for information on how you can create the most accessible office space.
Having an Accessible ADA Compliance Office Space Is Crucial
You want to make sure that you follow government regulations at your business and keep your employees, customers and guests safe. These are the main reasons for establishing an accessible workplace.
The Americans with Disabilities Act (ADA) was first enacted in 1990 to protect employees from discrimination in the workplace. It ensures that everyone has equal access or an appropriate accommodation regardless of disability status or in certain cases, ability level. You want your workplace to be ADA compliant so your employees can do their best work and meet their potential.
Violations of the ADA are punishable by fines and can also result in further litigation and civil lawsuits. When you configure your office's layout, it's important to order furniture that will meet the ADA's standards and set up your office so that walking paths and hallways are clear of obstructions. Title III of the ADA concerns office accessibility specifically, and you have to make sure you provide accommodations so that everyone can fully access your services or facilities.
Your employees and customers or guests are all covered by the ADA. To comply with the ADA's regulations and create an inclusive atmosphere, select office furniture and equipment that everyone can reasonably use. Your employees must be able to navigate the business and perform their job duties regardless of their disability status.
Ensuring An ADA Compliance Space
You know your office should be ADA compliant for the benefit of all members of your staff, but what are the specific rules? The following areas are important to the ADA:
1. Doors and Hallways
For an accessible office design, doors must be wide enough to allow all employees through, even those who use a wheelchair or may need to in the future. The ADA requires at least 32 inches of clearance for doorways, including when double doors are used. If a door is considered heavy, which is defined by the amount of pressure required to open it being greater than five pounds, it must be accessible. A door leading into an office suite should be lighter than five pounds to avoid this issue.
Hallways also need to be wide enough to allow employees to comfortably pass through. Routes to meeting areas should be at least 36 inches wide. If your building contains a narrow hallway, it's best to avoid placing any furniture there that could obstruct passage. The floors in your building should also be accessible. Thick carpets or rugs can be difficult to travel over for those who use mobility devices. Carpeting must be less than half an inch thick in office areas and hallways.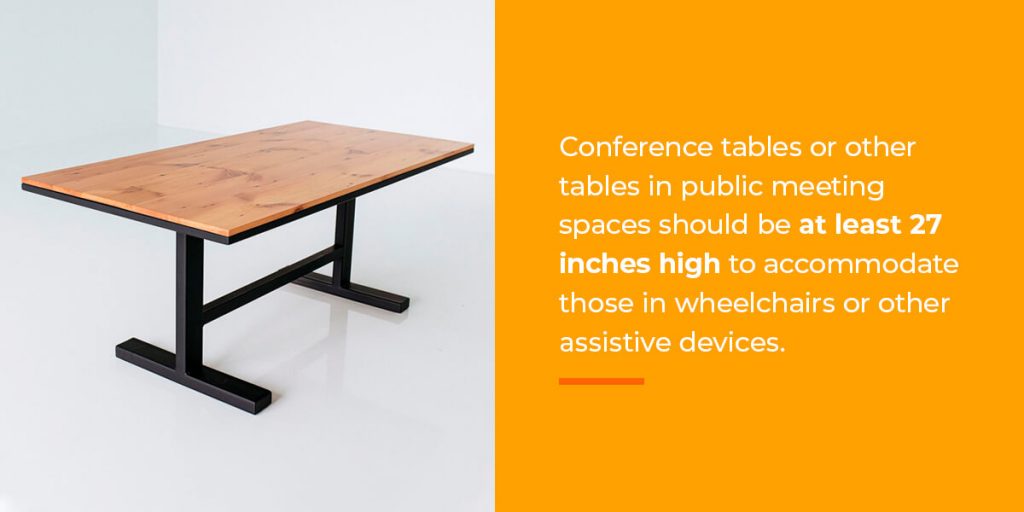 2. Desk and Tables
Supplying accessible office furniture is important for meeting the ADA's regulations, and employees are more productive when they are able to comfortably use their workstations. Conference tables or other tables in public meeting spaces should be at least 27 inches high to accommodate those in wheelchairs or other assistive devices.
Ways to ensure your office desks can accommodate everyone include:
Adjustable height desks and chairs: These types of desks and chairs allow each employee to work at their most comfortable height. Adjusting the height of a workstation could be a necessity for someone with a disability, particularly if their eye level rests significantly lower than average.
Sit-to-stand desks: Being able to stand while at work might be a preference for some employees, but others might require the option to stand because of a disability that makes sitting up for long periods difficult or painful.
Casual seating: Lounge arrangements are for more than a comfortable layout and a modern appearance. Some employees with disabilities might be able to work more easily in casual seating arrangements with couches and end tables.
Pouf stools, nesting chairs and bungee chairs: When a typical office chair is uncomfortable for a worker with a disability, a nice, modern stool or another type of chair might serve as a reasonable accommodation.
3. Screens and Digital Displays
As far as your office's digital technology, it's important to follow all of the ADA's recommendations. Keep your technology accessible with these regulations:
Screens should be installed within four inches of the wall so that employees can easily navigate around them.
Any written documents must be available for employees in large print, or an alternative with large font must be made available when requested.
4. Wayfinding
Wayfinding involves providing clear directions for employees to find their way around the building. It also relates to how easily your employees and customers can navigate the workplace. For accessible wayfinding options, use wayfinding signs with Braille lettering and graphic cues so that information is readable for all employees. Other wayfinding regulations include:
Protruding objects should be no higher than 27 inches above the floor, ensuring that a person with an accessibility device is able to notice and avoid them. Office furniture, shelves and water fountains all qualify.
A ramp must have an acceptable slope angle of no more than 1:12 with a maximum rise of 30 inches.
Handrails are required on both sides of ramps and stairwells.
Accommodate Everyone With Custom Office Furniture
When it comes to meeting accessibility standards, custom furniture has many benefits. Below are some of the most substantial:
Improved ergonomics: Custom office chairs and desks are designed to accommodate each individual worker's height and body weight and can prevent or relieve back pain.
Better flexibility: Seating options that allow any worker to sit comfortably improve your office's flexibility.
A more welcoming environment: Your employees and guests at your office will notice and appreciate having accessible options.
Team bonding: Employees respect one another when their environment is accommodating and their workplace fosters support.
Create an Accessible Workspace With Custom Office Furniture From Greg Pilotti Furniture Makers
Design an office that complies with ADA regulations and has a modern style. Greg Pilotti Furniture Makers can provide accessible office chairs, desks and other pieces for the comfort of your employees.
Contact us to learn more about our products or if you have any other questions.