Custom Live Edge Conference Tables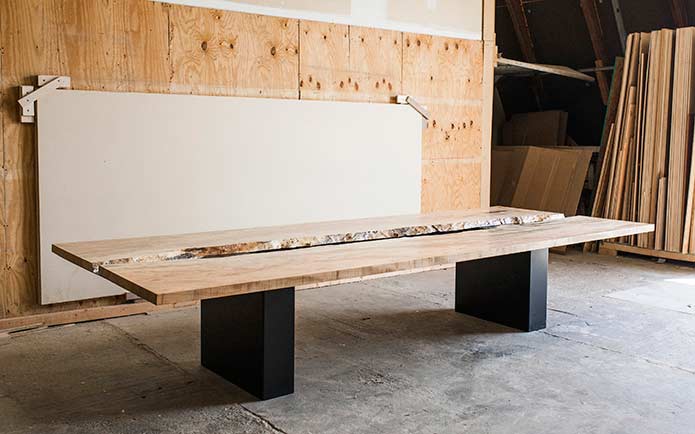 At Greg Pilotti Furniture Makers, we're proud to use locally sourced materials for our custom furniture. If you're interested in a live edge boardroom table, conference table or other live edge furnishings, we'd love to show you our work.
Our craftspeople have spent years perfecting our techniques and we're delighted to offer live edge tables as part of our custom catalog. Everything we make is manufactured by hand in our Chester County, PA, woodworking shop to our customers' precise specifications. If you're looking for a live edge table of a certain size or made from a specific material, download our size and seating guide and let us know. We can help!
What to Know About Live Edge Wood Conference Tables
Live edge furniture has a raw natural appearance and is easily recognizable. When you see or touch a table made with a live edge, it's easy to see what the tree it came from looked like. That's because, with live edge manufacturing, the outside edges of the tree are stripped of bark but otherwise left visible. It's at once rustic and modern, and every piece is unique. These attributes lend live edge tables their incredible character.
The beauty of live edge tables lies in the imperfections. For example, a fallen or damaged tree that would otherwise not be suitable for furniture-making is perfect for live edge work. Cracks, rough edges and grain are all celebrated in live edge furnishings. And even though a live edge table might look rustic, it's a remarkably versatile material in a variety of home or office settings ranging from contemporary to traditional.
A conference table made with live edge wood makes a stunning design statement in any office. If you want to create a special atmosphere using distinctive furnishings, a live edge table is a great place to start.

How to Order a Live Edge Boardroom Table From Greg Pilotti
We take all the stress out of ordering custom furniture. We can handcraft a live edge conference table that's completely customized to your specific needs. Here's how it works:
We'll find out what you're looking for. Greg will have a conversation with you to find out what you need. Do you have a specific wood in mind? Will the table need power and media access points? How large is the room where you're planning to place the table, and how many people should it comfortably seat?
We'll price your table according to your specifications. We'll deliver fair pricing, and once you pay a deposit, we'll provide a drawing of your custom live edge table and samples of the materials we'll use.
We'll deliver your table safely and ready for use. Whether you're near our central PA woodworking shop or you live elsewhere in the country, we'll ready your furniture for use and see that it reaches you safely via white-glove delivery services.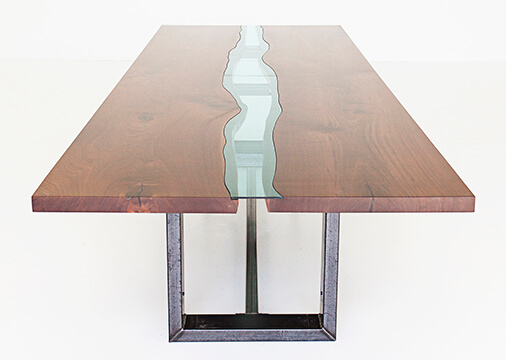 Contact Us for More Information
For more information about our live edge conference room tables or to learn more about the team of craftspeople at Greg Pilotti Furniture Makers, give us a call at (484) 712-5178.