How Custom Conference Tables Stand Out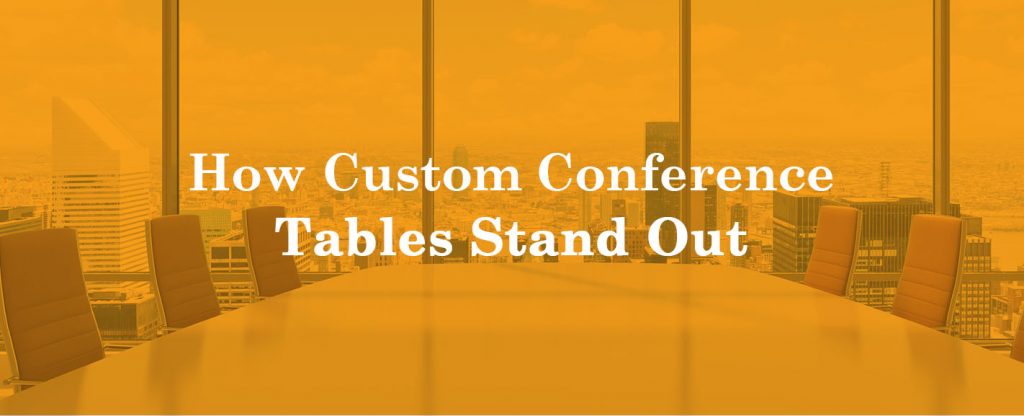 A conference table is a valuable centerpiece that puts your company's culture on display. You might need a custom table to integrate certain technologies, or maybe you just want a unique table with a sleek finish.
Below are the top reasons to get a custom conference table:
1. They're One of a Kind
A custom conference table for your office is tailored to fit your space, creating a piece of furniture exclusive to your workplace. You can choose raw wood materials that will always have a unique appearance and the style of your preference. Other ways custom tables are unique include the:
Materials: The specific type of wood and the crafting process are what make each custom table an individual work of art.
Organizational possibilities: Making design choices that differ from the standard allows you to customize both the appearance of the table and the best usage of space.
Professional appearance: A custom table is a quality product that can easily make your conference room look professional as the main piece of furniture in the room.
2. They Reinforce Your Brand Identity
Custom orders can be tailored to your business' identity and company values. Having a custom table in a meeting room creates a unique experience for your employees and customers. They also reinforce your brand identity by:
Displaying the brand: You can ask for your table customizer to incorporate a visual cue such as a logo or symbol of the company.
Matching the office's aesthetic: If you would prefer a warm, earthy atmosphere, barn wood adds a unique touch of rustic charm. If an elegant design fits your office's aesthetic, a marble tabletop adds a luxurious quality.
Creating a welcoming atmosphere: A custom table makes employees feel like they are coming together as part of a uniform team.
Adding to the culture: Your design choices do more than set a mood. They are integral to your office's culture and can make your company's values and ambition seen and felt.
Encouraging creative thought: Your brand is a distinctive identity. Seeing variety in the textures and materials of your custom furniture encourages your employees to value the ingenuity and creative thought that made your company possible.

3. They Leave a Lasting Impression
Want everyone who comes into your workplace to notice and remember your decor? A table is a less obvious way to advertise your company to clients and others from inside the office. Having appealing custom furniture acts as a first impression of your company that clients respect because:
They last in memories: Custom-made furniture that people rarely see in other places leaves a more impactful first impression. They reflect on the unique atmosphere of the office when they remember their experience there.
They are a selling feature: Custom furniture items tactfully present the company's status and influence. A high-end custom conference table can have a sleek appearance without coming across as excessive or gaudy.
They are something to talk about: Custom tables are a conversation starter, helping clients feel more at ease when they spend time at your office.
They fill a room: A conference table is often used as a large centerpiece, so if it is in poor condition or looks cheap, everyone tends to notice.
They are useful: Conference tables are used frequently, especially in busy offices, so ordering a table to be custom-made is usually a practical use of your office's funding.
They are comfortable: Having a well-designed conference table makes the best use of your room's layout, giving your employees the best possible positions when they need to focus on discussing a topic.
4. They're Made From High-Quality Materials
Custom conference tables stand out because they're built from sturdy, high-quality materials. They are a high-quality investment with durability and longevity as key attributes and are useful for making a good impression. Quality materials a custom table can be made from include:
5. They're Practical and Elegant
Your conference room requires a large table with enough seating arrangements for everyone present, and a custom-ordered table can have everything you're looking for while also lasting for years. Ways that getting one of these tables is a practical decision include:
You can choose the features: Their carefully-crafted architecture can incorporate technology or other tools to make meetings run more smoothly.
They have significant longevity: They are built to last for decades and are often reserved for another part of the office if a replacement is ever made. A cheap standard conference table might endure a few years of business growth before it starts to become wobbly.
They are required furniture: You might be able to get by without a couch in your office, depending on the industry, but if you have staff meetings or client-staff meetings, then you need a table where people can gather in your conference room. Companies of all sizes can benefit from getting a quality conference table.

Get a Custom Conference Table With Greg Pilotti Furniture Makers
Do you want your conference table to be worth the price and stand out as a strong characteristic of your meeting area? We can produce a custom-made order that fits with your office's values and aesthetics. Our team will work with architects and designers to produce a masterpiece. We will also contact furniture dealers about tracking down your desired style.
If you're ready to upgrade your office's furniture in a way that will get everyone talking, let us introduce you to the ideal custom conference table. Contact Greg Pilotti to learn more about the process or to start designing your own office furniture.