7 Pieces of Tech That Will Level up Your Conference Room
As conference room tech advances, more companies are investing in office equipment that can fully address their needs. If you're planning to change your meeting area to make it more efficient or accommodating, ensuring you have up-to-date technology is a wise first step.
If you are planning to upgrade your office to improve your company's reputation and your meeting communications' overall quality, keep reading to learn which conference room solutions are the best for your company.
1. Top-Tier Audio Equipment
Trying to communicate through poor audio quality can be frustrating, so it's worth investing in high-quality audio equipment designed especially for your conference room. Audio issues are one of the most prevalent problems during conferences and meetings. Investing in conference room sound equipment will allow all your attendees to hear each other clearly.
Having to adjust your audio to limit background noise or make voices easier to hear can be a distraction. Troubleshooting these issues will interrupt meetings and make the environment less welcoming for those who have to connect remotely. Test the audio equipment before hosting a meeting to ensure everything works correctly.
Because of recent advances in video and collaboration technology, new audio equipment is starting to become more popular. Audio equipment makes up a significant portion of AV hardware investments in recent years, and the demand for these items has increased.
2. Sound Treatment
Even with professional microphones, speakers and other sound equipment, it's crucial to reduce reverberations to get the best possible auto quality. In some cases, your conference room's acoustics can interfere with your sound quality — which can be a disappointing discovery after you upgrade all your AV equipment.
The reverberation time is how long it takes sound to fade in a closed space. When surfaces are more absorbent, they tend to quash sounds. If your conference room has several reflective surfaces, the sound will linger.
Conference rooms often have glass windowpanes and high, hard ceilings that make them susceptible to RT. In a conference room with poor sound quality, sounds will bounce between hard, reflective surfaces, creating a muddling effect on speech and music. This problem is sure to adversely affect video conference calls and remote presentations, and it can also reduce privacy. Soundproofing your conference room can prevent sound leakage and keep your business interactions private.
3. Device-Agnostic Hookups
The term "device agnostic" means all the separate electronic components of your system are compatible with one another. For example, if your laptops are Macbooks and your tablets are iPads, the accessories you regularly use should also come from the Apple brand. Computers and other devices made by a competing manufacturer, such as Microsoft, will be unsuitable.
Device-agnostic hookups prevent your conference room technology from failing to connect and derailing a mission-critical meeting. All parts of your system need to synchronize for the best possible results. If you need to adjust anything, you can usually improve your system without doing a ground-up installation.
Try to stay within the confines of a fairly tight budget if you want to upgrade your conference room device hookups. If you can't buy the same brand for everything, read reviews and look for components that should work well together. These include display and audio hookups, charging ports and any other technology that needs a computer to run.
4. Wireless Solutions
When your employees have to give a presentation, they need to engage their audience without spending time setting up cables and trying to get wires to connect. Your conference room display can connect with an HDMI cable, but this means only one presenter can share the screen at a time. With a wireless solution, all meeting participants can easily connect their devices and share their screens.
With HDMIs, your employees must spend more time setting up presentations and switching between points. HDMIs usually only connect to laptops instead of other devices, making them less convenient than a wireless solution. You can store your HDMI equipment as a backup, but the sooner you set up a wireless system in your conference room, the better.
5. Smart Displays
Instead of using traditional screens with standard resolution, consider getting a smart display to optimize your meetings' video quality. You can use anything from a smart TV to a touchscreen display unit for this purpose.
Smart video technology decreases the amount of time it takes to set up your conference room equipment and uses real-time collaboration to help your meetings run effectively. Several prominent brands in the tech industry offer smart display devices for personal and commercial use.
Using smart technology can also help your company save money. Newer displays are more energy-efficient. Replacing expensive business travel with simple video conferencing also helps.
6. Room Schedule Screens
It's easy for employees to get confused about meetings when events are prone to change and they lack access to a schedule. Place a tablet outside your conference room to display daily bookings and availability. Your team members will appreciate the ability to check when a specific meeting is. You can also tailor your scheduling solutions using software designed specifically for this purpose.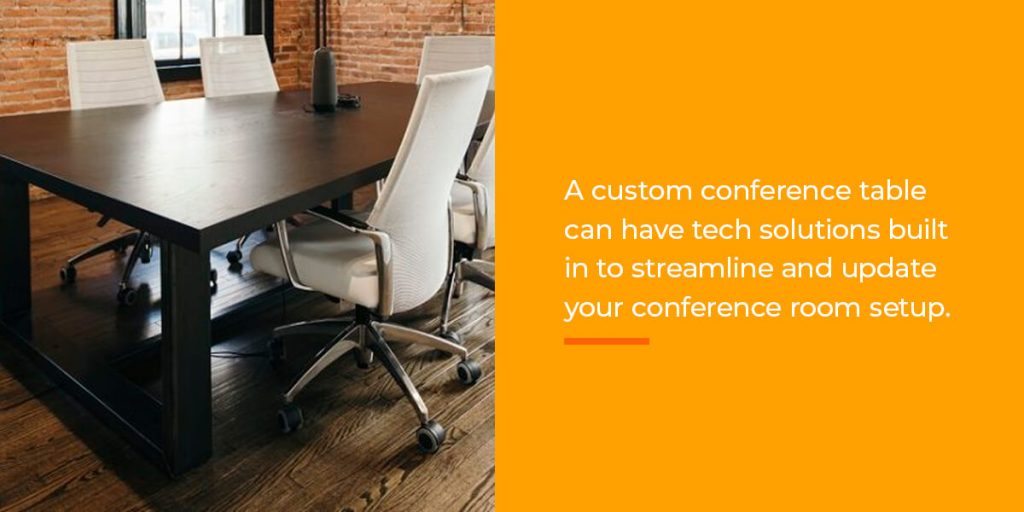 7. Complete Your Tech Setup With a Custom Conference Table
A custom conference table can have tech solutions built in to streamline and update your conference room setup. Consider the many benefits of getting a custom conference table installed in your office.
Custom style and sizing options: You can select a table style that fits your conference room's layout, aesthetic values and available space.
Multiple material options: Tables are available in high-quality blackened steel, powder-coated steel and lacquered wood.
Compatible with technology: A custom conference table can have your display built in, platforms for setting computers up at the ideal height and other valuable features. It can also hide wires for a seamless look.
Start Building Your Custom Conference Table Today
With the help of a dedicated team of architects and furniture dealers, Greg Pilotti Furniture Makers designs custom furniture based on your desired features. We handcraft office conference tables using high-quality Pennsylvania woods, including tables featuring live-edge designs. Trust our experienced craftspeople to manufacture your built-to-last table according to your precise specifications, with attention to detail at every step of the process.
We work directly with architects, designers, furniture dealers and valuable customers. Contact Greg Pilotti online to learn more about our custom conference tables and request pricing.