Planning Your Conference Room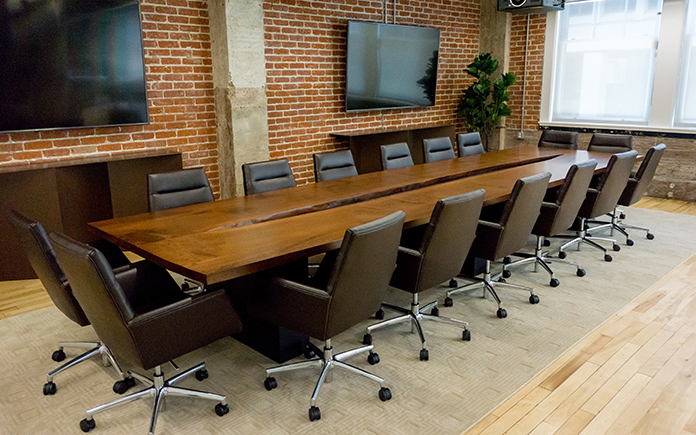 Conference rooms should be designed with the essentials for your specific business. A new space or configuring an existing space is a great way to make an impact on your company. Whether aiming for aesthetics and design or functionality, the choices you make are important. A conference room for a small legal firm is different from that of a major marketing firm. With so many variables in play, it can be difficult to determine how to best approach your conference room design. Planning your conference room is a great way to convey your image. It is also a way to enhance productivity and provide a place to showcase your company's culture.
Why A Custom Conference Table?
A custom conference table is the focal point of any conference room, large or small. Your table is a tool that will send a message about your company. In other works, it can be used to enhance productivity and become a place to gather. Typical tables do not compare the features of a custom table. Power, data, logos, branding, special sizes, unique materials, these are all possible with a custom conference table. Be sure to visit our contract furniture page to see examples of our tables.
Understand your Budget
No matter the design, cost is always an important factor. Understanding how different materials and sizes change a tables price is important to finalizing design choices. Our team is available to clearly explain differences in materials, pricing, sizes, etc. We know how to work with our client's ideas to best utilize their budget.
Technology Power and Data
The smallest table can have power or data in the table top. Our custom tables are built to allow for wires to run through the bases. When planning a conference room it is important to understand where the power and data will be located. Some rooms run wires from the walls and some run them up through the floor in a core. Regardless of the location, we are able to assist you with integrating power and data into your conference table.
Ask For Help
When planning your conference room you will need some help, above all that is what we are here for. Our experienced and knowledgeable team is always ready to assist our clients with their custom furniture needs. From custom conference tables to credenzas, we are able to help our clients plan the perfect conference room.