Veneer Boardroom Tables
Are you looking to make your boardroom stand out with a signature piece of furniture? You might consider wood veneers. Wood veneer furniture can feature custom designs that aren't possible with solid wood. Veneer tabletops can also consist of hard-to-get woods and complex patterns that are impossible to apply to solid wood furniture. With veneers, you can produce a one-of-a-kind table toenhance a meeting space, such as a boardroom or conference room.
Let's explore wood veneers and reasons to add a wood veneer table to your boardroom.
What to Know About Wood Veneer Tables
A veneer is a slice of a large piece of solid wood, creating a thin wood sheet. A woodworker will skillfully apply the wood sheet to a sturdy substrate, such as solid wood or plywood, ensuring a seamless look. The furniture maker must have experience working with veneers to build a quality table with the beauty and texture of natural wood.
Wood veneers have a long, rich history of use in furniture making. For example, if you traveled to Egypt 3,500 years ago, you'd find wood veneers decorating the coffins of Egyptian royalty. People have long loved veneers for their ability to maximize the use of rare trees and create intricate patterns with the finest woods.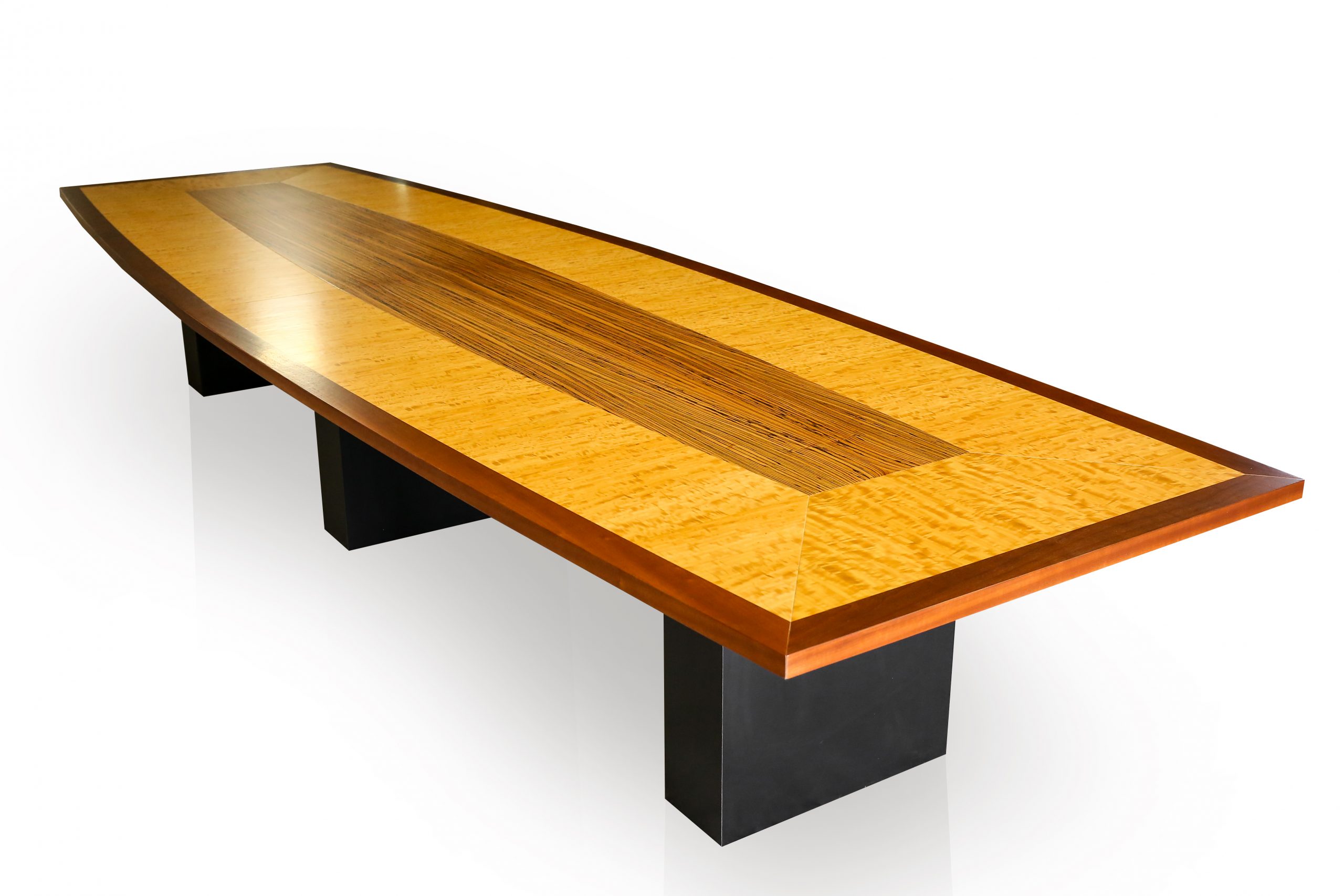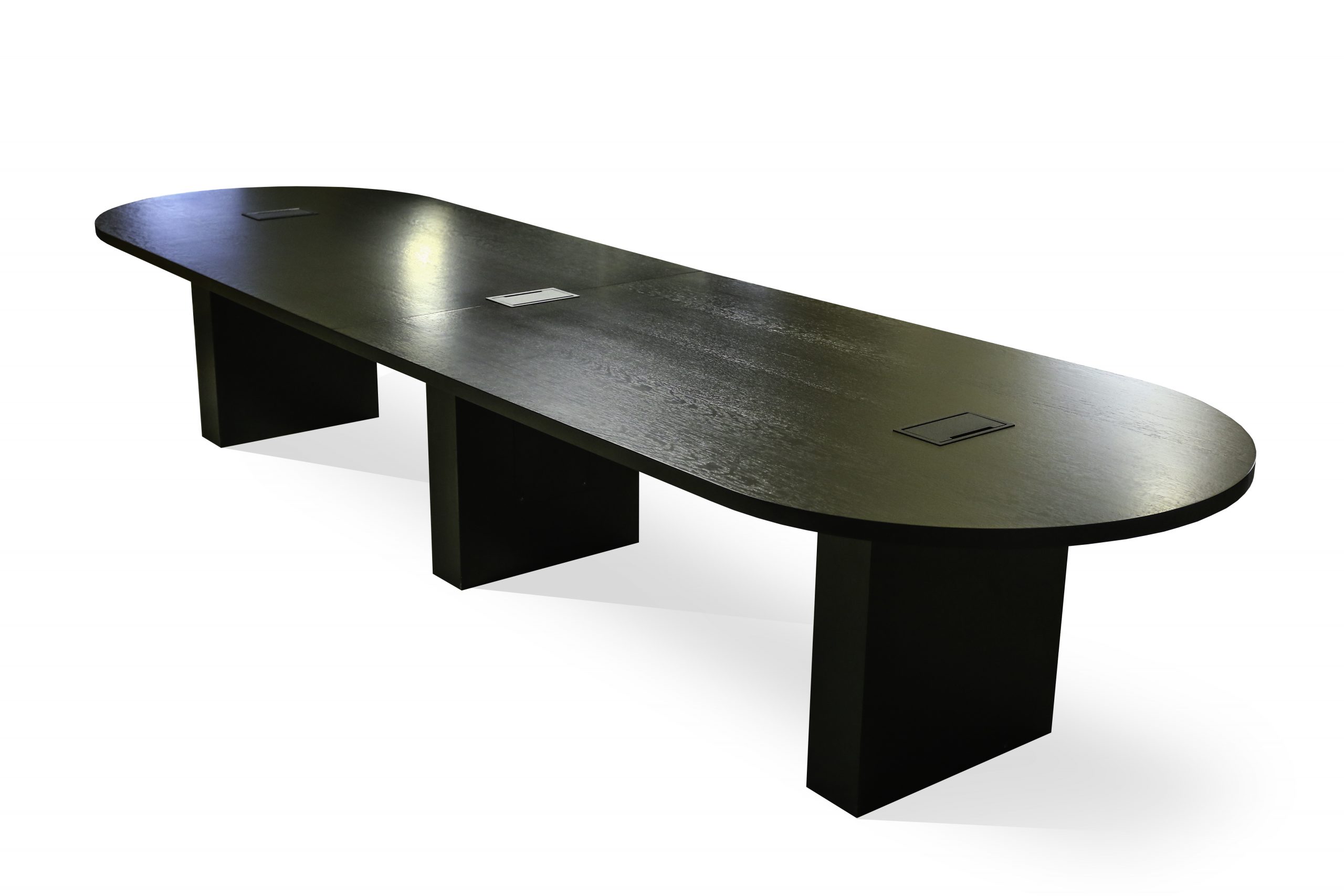 The Benefits of Buying a Veneer Conference Table
A boardroom is where decision-makers gather to discuss ideas and solve problems. Such a space requires a roomy enough table to accommodate all board members that's sturdy enough to last. A large veneer boardroom table can suit your space and durability requirements while adding style and a sense of authority to the room. Here are more benefits of choosing a veneer conference or boardroom table for your company.
1. Get a Unique and Custom Look
Every wood veneer sheet is inherently unique because the grain patterns are never the same between two trees. The way a woodworker applies the veneer can also have an artistic touch. For example, a woodworker can cut the veneer into specific shapes and arrange the pieces in an interesting pattern on a tabletop, creating a truly original table. If you want, you could add solid wood to the table's edges and make a veneer pattern the focal point.
A woodworker can also form a table's shape according to your vision, whether you dream of an organic build that looks taken directly from the forest or need a configuration that fits into a room's unconventional layout.
Overall, you can have a boardroom table that impresses clients and exudes professionalism if you choose wood veneers. A table customized to suit your company's image can also help board members feel inspired and get into a productive mood.
2. Hide Cables Easily
If you're worried your boardroom will look like a cable jungle, speak to your woodworker. A woodworker can install lidded wells and grommets into a wood veneer tabletop, allowing you to keep cables organized and out of sight. A custom tabletop solution also makes it easier for board members to access power outlets and USB ports, so no one has to crawl under the table. With wood veneers, you can design a boardroom table that meets your company's tech needs and makes a more efficient workspace.
3. Match Other Office Furniture Effortlessly
With its warm, neutral color, a wood veneer table coordinates beautifully with other furniture pieces. That means you won't have to buy all-new office furniture to match your boardroom table, and you can create a cohesive look no matter what you have on hand. For example, you can pair a veneer boardroom table with dark leather chairs from your office and create a sophisticated, polished look. Or, you might add colorful artwork to the boardroom, and you won't have to worry about it clashing with your wood veneer table.
4. Suit Any Decor Style
Does your office have a modern, industrial look? Or has your company gone for a more residential feel? No matter your decor style, you can expect a wood veneer boardroom table to add warmth and a touch of nature to your office space. For example, a straight-grained oak veneer boardroom table adds a clean wood element to a light-filled contemporary space, sure to wow clients.
5. Be Eco-Friendly
Wood veneers make an eco-friendly choice for a boardroom table because they're less wasteful. Unlike solid wood, veneers are sliced rather than sawed, so you don't have to worry about creating excessive sawdust or unused pieces. Like any wood product, veneers are also recyclable and sustainable.
6. Have a Sturdy Table Made to Last
One of the greatest benefits of a wood veneer is its durability. Veneer tables are unaffected by seasonal wood movement, so you can expect the table to remain stable even if it's humid or dry outside. Since you won't have to worry about a veneer expanding or contracting with the weather, it's also less prone to splitting like solid wood. And, you'll still get to use the natural beauty and character of wood furniture.
How to Order a Wood Veneer Boardroom Table
Are you ready to buy an impressive veneer boardroom table? At Greg Pilotti Furniture Makers, it's easy to order custom office furniture that'll make a statement. Here's how it works.
We'll schedule a call: We want to learn about your needs so we can design a table your whole office will love. We'll ask for details such as where you plan to place the table and whether it needs power access. After you share your vision and needs, we'll design your veneer boardroom table.
We'll provide a price and samples: After our conversation, we'll send you drawings and samples. Once we have your approval and deposit, we'll get to work.
We'll deliver your table with special attention: When your table is ready, we have it delivered with white-glove service directly to your office. Are you outside Pennsylvania? No problem. We ship nationwide.
Contact Us for More Information
Since wood veneers are so versatile, there are endless possible designs for a stunning tabletop. With a veneer table in your office, you'll have a conversation starter you can use time after time.
At Greg Pilotti Furniture Makers, we proudly use wood veneers to build attractive boardroom tables, conference tables and matching furniture. Whether you need a boardroom table with tech access points or coordinating furnishings placed throughout your office, we're ready to help. We can source beautiful veneers and handcraft them to your precise needs.
To learn more about our process or how to take care of the wood veneers we source, feel free to call us at 484-712-5178 or contact us online.