West Chester Office Furniture
Our team recently delivered a large order of office furniture in West Chester, Pennsylvania. The furniture included sit stand desks, custom conference tables, office storage, credenzas, coffee tables, and a live edge break room table. Each piece was designed specifically for each room to function well within the space available and compliment the mixed materials within the office space. Let's take a look at some of these amazing pieces!
Reclaimed Coffee Table
Reclaimed wood is largely known for being rough and raw but it does not have to be used that way. For this coffee table we salvaged a large beam from an old barn and planed each side of the beam down smooth. By gluing each of the beam parts together we were able to make a massive chunk of wood with end grain showing, like a huge butcher block. Two steel legs hold the reclaimed wood top completing the reclaimed/industry look of this coffee table. These tables can be made from any type of old barn beam!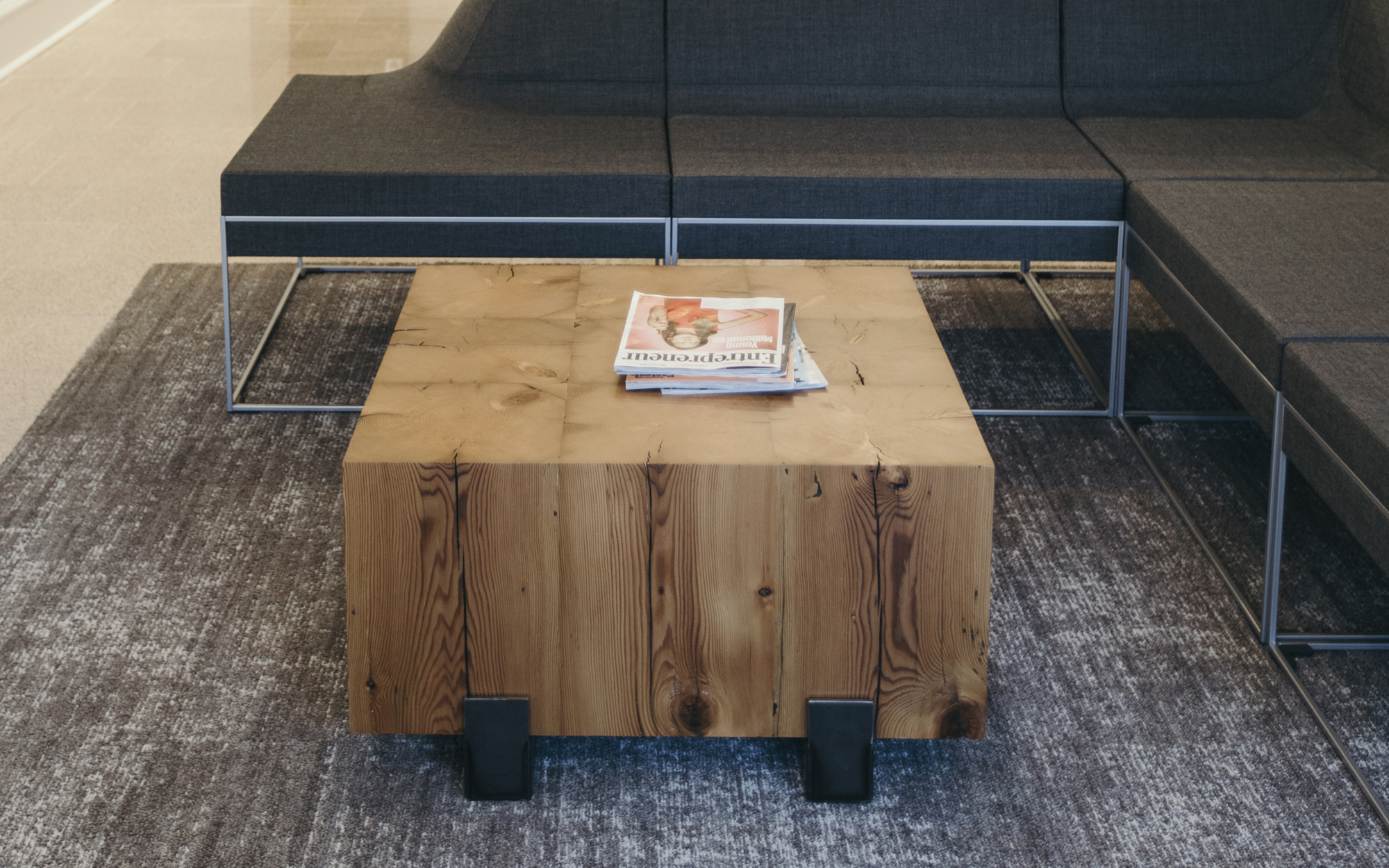 Live Edge Break Room Table
Modern offices take use of spaces for employees to relax, recharge, and focus. This live edge break room table was placed next to the coffee bar to give the employees a place to relax and recharge for a few moments. The black steel base supports two book matched walnut live edge slabs to create the ideal table for a short break.


Solid Wood Conference Table
This table was designed to sit against a wall that featured a large screen. To maximize the seats it was created in an angle shape to allow each user a little more space and a clear view of the screen. Power is run through the table legs and up the the bottom of the table top where it is accessed under a wood grain hatch cut from the table top.


Office Credenza
Our client was looking for specific storage in each office, our credenzas were a perfect fit. Instead of using hardware we added geometric voids to the design to allow for opening the doors and to create pattern. The credenzas have grain matched doors and drawer fronts along with a black frame for contrast. The top of each is solid wood for a durable secondary work surface. Power was integrated into each as well as dovetailed soft close drawers.


Quartz Conference Table
The basement conference table in this office is made of two large pieces of quartz. Quartz is available in hundreds of colors and designs and has an advantage of being very scratch resistant. The disadvantage of this material is the weight and limited sizes. We solve the weight issue of this top by building a sturdy steel base and powder coating it grey. Wires are concealed within the table legs for a clean look and to keep them from being trampled on.


Wood and Steel Reception Desk
Continuing the use of solid wood and steel we created this reception desk around a large steel shroud with the client's logo laser cut into it. The desk's frame and work top are made of solid walnut for durability. An added bonus to this desk is that it actually sits on casters, it can be wheeled out of the way to allow for the client to host small parties in their lobby and entertain. A table height section was left next to the door for mail and packages to be dropped off without interruption.


Learn More
Be sure to check out some of our custom conference tables located on our custom conference table page or our Architizer listing! Contact us today to learn more about the featured West Chester office furniture.