What Does Your Conference Room Say About Your Business?
The conference room is a central fixture of most office spaces. It can be used for large meetings among employees, collaborative sessions, more private meetings, interviews, consultations with clients and more. Especially if you use your conference room for external purposes, you need your conference room to make a positive impression. We're going to discuss what your conference room says about your business and how you can change this narrative for the better.
Does Your Conference Room Reflect Well On Your Business?
Your office space as a whole, and your conference room, in particular, should reflect your business's branding. Your brand is your business's unique identity. You may prioritize incorporating this brand identity into marketing materials, but your physical space is one of the most important ways you can bring your branding to life, for both clients and your employees.
The question to ask is not whether your conference room makes an impression on people, but rather what that impression is. Your conference room's functionality and design are a reflection of your business's identity. So, does your conference room tell people what you want it to about your business? Or is it nothing more than a lackluster room with a table and chairs?
How Can You Make the Right Impression With Your Conference Room?
Your conference room is making some sort of impression, but it may not be a good one. So, how can you make your conference room a positive reflection of your brand? The best way is to be intentional about every aspect of your conference room design.
Everything from the furniture to the room's name contributes to what your conference room says about your business. In this guide, we'll discuss a few ways you can personalize your conference room so you can make the right impression.
Choose a Unique Conference Room Name
For many businesses, the conference room is simply labeled "conference room," "boardroom" or "meeting room," sometimes with a number or letter to distinguish one conference room from another. These generic titles do nothing to speak to your business's unique identity, and settling for them is a missed opportunity to motivate and inspire employees.
Instead, choose a name that somehow speaks to your company's culture. For example, you could name each conference room after your company's values, as the software company Sprinklr has. You could also take inspiration from your company's accomplishments or anything else that defines your brand. No matter what unique names you settle on, choosing a personalized name for your conference room can automatically suggest to people that your company is proud of its culture.
Show Off Your Company's Culture With Your Décor
When someone steps into your conference room, they shouldn't be overwhelmed by too many colors or overly busy décor. However, they also shouldn't be underwhelmed by a room that is completely void of any life or creativity. Just like a generic name, a plain conference room with no personality doesn't speak to your company's culture.
Look for ways to enhance your conference room's décor in a way that enforces your brand and inspires employees and visitors alike. For example, this could mean incorporating your company's colors or logo into the room. It could also mean adding a mural with artwork or text that speaks to your company's mission and values. Consider how you can make your brand come alive in your conference room décor.
Install a Custom Conference Table
There is nothing more central to the conference room design than the conference room table. Maybe your company bought the first wood conference table you found, thinking it wouldn't make much difference how it was designed. If so, it may be time to replace your table. Your table is the centerpiece of the conference room, so it's one of the most important aspects of your conference room design.
If you really want a table that embodies your branding and legitimizes your business, you need a custom table. Choose a table made from materials or designed in a way that fits with your brand's aesthetic. Opting for a live edge table or a table made from reclaimed wood ensures your table will be truly one-of-a-kind. Carefully creating a beautiful, unique table shows an attention to detail and refusal to settle for the status quo that can help you give the right impression to anyone who visits your conference room.
Choose Chairs That Are Comfortable and Attractive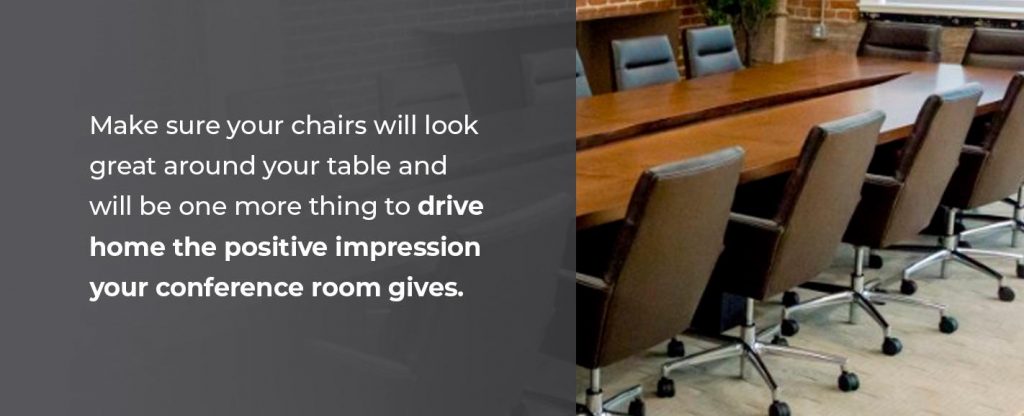 The chairs you place around your table can also help you make the right impression. You want to choose chairs that offer the function and the look you're after. If your company's culture is more traditional, you may want chairs with a more formal look and feel. If your company is all about innovation, you may want to consider a more futuristic design.
The key is to first determine what image you want to project and to then keep that in mind when you browse through options for conference room chairs. Never settle for the first standard chair you find. Instead, make sure your chairs will look great around your table and will be one more thing to drive home the positive impression your conference room gives.
Choose Other Furniture That Fits With Your Aesthetic
Most conference rooms include other furniture outside of the table and chairs. This often includes credenzas and media consoles to assist with storage and integrating technology into the room. It may be easy to overlook these functional pieces of furniture, but they can also add to, or detract from, the way your conference room reflects on your company.
Creating custom furniture, such as credenzas and media consoles, to match your boardroom table or to simply fit well into your overall aesthetic is a great idea if you want to project a consistent, branded image. As with everything we've discussed, the key here is to be intentional about your choices rather than settling for bland furniture that only says your business is fine with the ordinary rather than the extraordinary.
Conference Room Furniture to Help Your Company Shine
If you're looking for conference room furniture that is unique and will help legitimize your business, Greg Pilotti Furniture Makers can help. With expert craftspeople and beautiful, quality materials, we can create one-of-a-kind furniture for your conference room, including tables, credenzas, media consoles and more, that will celebrate your company's unique identity.
Contact us today to request a quote and to learn more about how we can help your conference room say all the right things about your business.